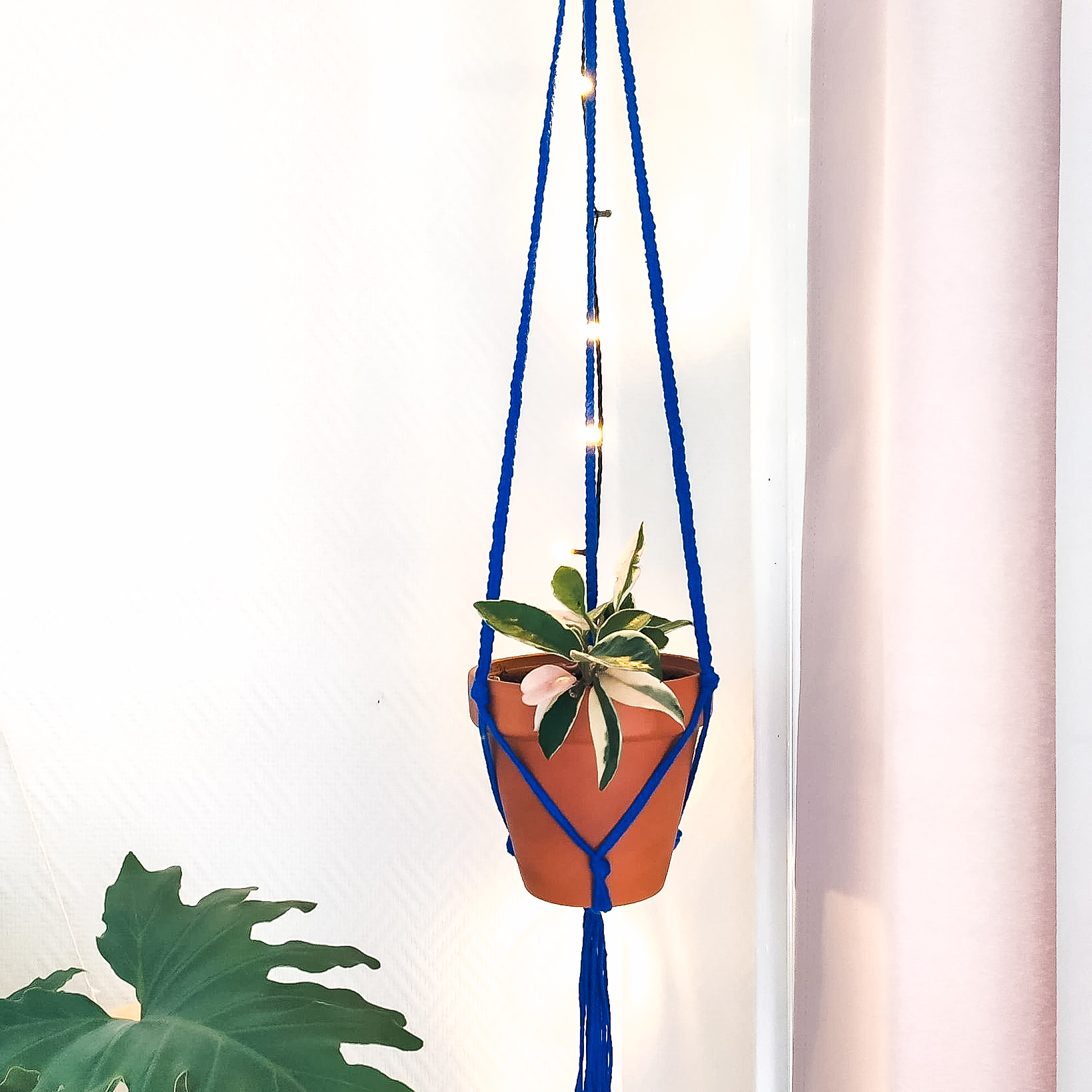 Plants, Pots, & Macramé with Kasia Krzewicka – September 27th

€44.90 / reserved seat with all necessary materials

This workshop incorporates everything we love: crafts, plants, & food! Honestly what else could we ask for?

In this 2.5 hour workshop, you will be learning about macramé. Macramé is a crafting technique that uses knots to create intricate textile patterns.

Join us Sunday, September 27th at 11h30 to learn this wonderful macramé skill from invited artist Kasia Krzewicka. For this workshop we will be supplying all necessary materials to create a wonderful macramé hanger, as well as a beutiful new plant and pot for you to display altogether at home. Believe me, you won't want to miss it.

And ofcourse, as usual, mimosas and snacks for all our creative explorers ︎

One session will be available on Sunday, September 27th:
11h30 - 14h00

Come join us for an amazing matinée filled with creativity in Paris!

*The workshop will be held in a cozy apartment setting at Rue Saint-Maur Paris 11
Storytelling Through Images: A Linoprinting Workshop – October 11th
€36.00
/ reserved seat with all necessary materials
€59.90
/ reserved seat with all necessary materials +
I'm All In Linoleum Printing Creative Kit
€46.20
/ reserved seat with all necessary materials +
Intro to Carving Linoleum Printing Creative Kit
Join us on Sunday, October 11th at 11h30 for a lino-printing workshop taught by the Creative Gathering's team!
In this 2.5 hour workshop, you will be learning about
lino-printing
. Lino-printing is a reliefe printmaking technique where an image is translated to linoleum and carved out in order to create a stamp. By the end of the workshop you will have created a unique hand-printed collection of cards.
In this workshop we will be focusing on the relationship between different symbols and how one can create multiple meanings using the same images in different arrangements. We will be making multiple smaller linocut stamps and creating playful cards to convey different ideas.
What to bring? We will be supplying all necessary materials and visual inspiration to get your creativity flowing, and of course, all the wine ;) If you have any ideas you would like to work on, don't be shy and bring any visual resources (drawings, sketches, photos, etc.) of your own!
The order of the workshop is as follows :
– learning about the materials
– sketching and drawing
– carving your designs
– learning to print
– printing
At the end of the workshop you will be leaving with a print done fully by yourself, lino stamps and a new technique to continue experimenting at home, and hopefully some new friendships.
One session will be available on Sunday, October 11th:
– 11h30 - 14h00
Come join us for an amazing matinée filled with creativity in Paris!
*The workshop will be held in a cozy apartment setting at Rue Saint-Maur Paris 11
Painting & Repotting Workshop – October 25th

€32.00 / reserved seat with all necessary materials

Join us on Sunday, October 25th at 11h30 for a painting and repotting workshop!


ENG

Pure joy! This workshop is about having fun while learning some painting hacks. You'll have a plant vase to customize and make your own.

In this 2.5 hour workshop, you will get acquainted with this technique and some tools: We'll work out patterns, color coordination, motifs, to then decorate the vase.

At the end of the session, you'll leave with your customised vase and a plant to keep you company during winter, and beyond! As usual, materials, snacks and mimosas provided! We'll also have some diy kits from our previous workshops in case you want to get yourself started at home or give a creative gift to someone you love.


FR

Que du bonheur ! Avec cet atelier de peinture on va s'amuser tout en apprenant les fondamentaux, sur un pot à fleur à customiser donc selon vos envies.

Cet atelier de 2h30 a été conçu comme une introduction à la peinture : oser expérimenter avec des pinceaux et d'autres outils, travailler un patron, des motifs, des couleurs pour ensuite les appliquer au pot.

A la fin de la séance, vous partirez avec votre pot et dedans bien au chaud une plante pour vous accompagner pendant l'hiver, et au-delà ! Comme d'habitude, tous les matériels, l'apéritif et les boissons sont compris dans le prix. Pour l'occasion, des kits de nos ateliers précédents (linogravure, broderie, macramé) seront aussi disponibles au cas où vous voulez essayer à la maison, ou faire un cadeau créatif.


What to bring? We will be supplying all necessary materials to get your creativity flowing, and of course, all the treats ;)

One session will be available on Sunday, October 25th:
– 11h30 - 14h00

Come join us for an amazing matinée filled with creativity in Paris!

*The workshop will be held in a cozy apartment setting at Rue Saint-Maur Paris 11

Paint your own ornaments workshop – November 8th

€36.00 / reserved seat with all necessary materials

Join us on Sunday, November 8th at 11h30 for a painting workshop to personalize your own set of wooden ornaments!

ENG

Oh, jingle bells, jingle bells, Jingle all the way (8)

Christmas is coming ! To get in the spirit of the season, what better than hand making your own eco conscious adornments (from wood hand picked in the surrounding forests) in a cozy setting?

This 2h30 workshop is a light introduction to painting and calligraphy - you'll be able to decorate your ressourced woodcuts with seasonal motifs and even personalize them with the names of your loved ones.

At the end of the session you'll go back home with your very own handmade adornments collection, ready to hang or to gift ! As usual, materials, snacks and mimosas provided! We'll also have diy kits in case you want to continue at home or get some creative seasonal shopping done.

FR

Vive le vent, vive le vent, vive le vent d'hiver (8)

Noël approche, et pour préparer l'esprit de la saison, rien de mieux que de faire ses propres ornements éco-responsables, en bois sourcé dans les forêts d'Ile-de-France !

Cet atelier de deux heures et demie est aussi une introduction à la peinture et à la calligraphie : on vous propose de décorer vos rondelles de bois avec des motifs de la saison appliqués au pinceau, ainsi que de les personnaliser avec les noms de ceux que vous aimez.

A la fin de la séance vous partirez avec une collection d'ornements faits à la main, prêts à offrir (ou à décorer votre sapin). L'apéro, les boissons et les matériels sont inclus, et comme d'habitude, nous aurons des kits créatifs diy pour ce.lle.ux qui font leur shopping de Noël.

What to bring? We will be supplying all necessary materials to get your creativity flowing, and of course, all the treats ;)

One session will be available on Sunday, November 8th:
– 11h30 - 14h00

Come join us for an amazing matinée filled with creativity in Paris!

*The workshop will be held in a cozy apartment setting at Rue Saint-Maur Paris 11

Paint your own ornaments workshop – November 20th

€36.00 / reserved seat with all necessary materials

Join us on Sunday, November 20th at 11h30 for a painting workshop to personalize your own set of wooden ornaments!

ENG

Oh, jingle bells, jingle bells, Jingle all the way (8)

Christmas is coming ! To get in the spirit of the season, what better than hand making your own eco conscious adornments (from wood hand picked in the surrounding forests) in a cozy setting?

This 2h30 workshop is a light introduction to painting and calligraphy - you'll be able to decorate your ressourced woodcuts with seasonal motifs and even personalize them with the names of your loved ones.

At the end of the session you'll go back home with your very own handmade adornments collection, ready to hang or to gift ! As usual, materials, snacks and mimosas provided! We'll also have diy kits in case you want to continue at home or get some creative seasonal shopping done.

FR

Vive le vent, vive le vent, vive le vent d'hiver (8)

Noël approche, et pour préparer l'esprit de la saison, rien de mieux que de faire ses propres ornements éco-responsables, en bois sourcé dans les forêts d'Ile-de-France !

Cet atelier de deux heures et demie est aussi une introduction à la peinture et à la calligraphie : on vous propose de décorer vos rondelles de bois avec des motifs de la saison appliqués au pinceau, ainsi que de les personnaliser avec les noms de ceux que vous aimez.

A la fin de la séance vous partirez avec une collection d'ornements faits à la main, prêts à offrir (ou à décorer votre sapin). L'apéro, les boissons et les matériels sont inclus, et comme d'habitude, nous aurons des kits créatifs diy pour ce.lle.ux qui font leur shopping de Noël.

What to bring? We will be supplying all necessary materials to get your creativity flowing, and of course, all the treats ;)

One session will be available on Sunday, November 8th:
– 11h30 - 14h00

Come join us for an amazing matinée filled with creativity in Paris!

*The workshop will be held in a cozy apartment setting at Rue Saint-Maur Paris 11